You've picked the dress, the venue, the reception, and the guests, so now is the time to start thinking about the actual ceremony itself, including the music. Choosing the hymns for your wedding is an important part of your day, as you need something your guests will know so they can sing along.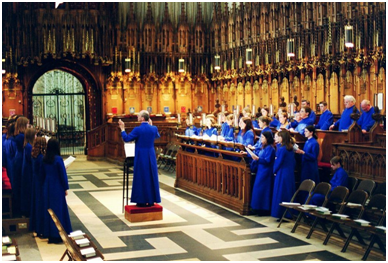 Hymns to Raise the Church Roof
You also need to choose something uplifting which is in keeping with a celebration. You might have a favorite that you want to include. You may want one hymn for after the bride's arrival, one after the vows are exchanged and you are signing the register, and a rousing hymn to raise the church roof as you leave as Mr and Mrs.
For the first hymn, go for something in the top ten of hymns so that your guests are encouraged to sing along. You want a good atmosphere with as many people singing as possible unless you have a friend with a great voice who can lead the songs. Popular choices include Praise My Soul The King Of Heaven, Love Divine, All Loves Excelling, and Lord Of All Hopefulness.
The second song could be more melodic and gentler to represent the spiritual high point of the wedding when the vows are exchanged. Good choices are The Lord's My Shepherd or Morning Has Broken, which again many people will know.
Church Hymns to Reflect the Love

The third and final hymn as you leave the church needs to be really upbeat to get your friends and family cheering or clapping as you head back down the aisle. It will need to match the beaming smiles on your faces and the tremendous amount of love in the air. Jerusalem, Give Me Joy In My Heart, All Things Bright And Beautiful and Lord Of The Dance come highly recommended.
When discussing hymns and the service with your priest or vicar, let him know that you have booked a photographer and ask him where are the best places for him or her to stand.
As the service is coming to an end do make sure to remind your family and friends about where to go next as they might need the postcode.  Just tell them its at a Hotel Wedding Venue in Gloucester and they can get the details from sites including hatton-court.co.uk/gloucester-cotswolds-weddings.
Last but not least, enjoy every moment and make sure you have many happy memories to look back on for many years to come.